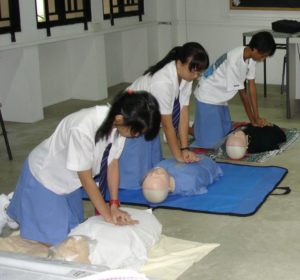 St John Association is the training wing of St John Singapore. Established in 1885, it is also the oldest component of the St John movement in Singapore, and the oldest First Aid education establishment in Singapore.
St John Association provides training in First Aid, Home Nursing, Child Care, and other realted subjects to the public, students, corporates, workers, and other interested individiuals or groups.
St John Association organises 7 different courses in both English and Mandarin to cater to your personal or occupational needs. Courses range from half-day programmes like the CPR+AED Course, to 5 half-day programmes lik the Adult First Aid Course. We are also happy to accomodate to your group or company's learning needs. Find out more about our courses.
In our pursuit for learning and teaching excellence, St John has received the ISO:9001 Certification in Quality Management System in 2016. Our courses are also accredited by the National First Aid Council, the National Resuscitation Council, and the Ministry of Manpower.
St John Association also certifies First Aid, Home Nursing, and Life Support courses organised for members of the St John Brigade.
We welcome healthcare professionals, as well as certified First Aid Lecturers and Life Support Instructors, to join us in our ranks. Find out more.